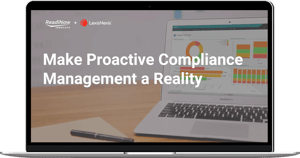 In this on-demand webinar with LexisNexis, we cover how to move from manual, spreadsheet-led compliance processes to a proactive compliance management platform that allows you to:
Identify compliance gaps
Focus on priority obligations
Allocate to particular obligation owners
Have confidence (and data) to back up your compliance processes
This entire solution is built on the agile, zero-code ReadiNow platform, which means you can configure anything, by simply dragging and dropping, to suit your compliance frameworks.
Create workflows to align to your compliance processes, enable role-based security and integrate with your existing systems and other data providers like LexisNexis.
Watch the webinar now.