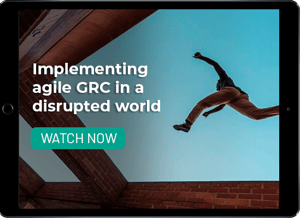 In this current disrupted environment, you may have heard experts discussing agile GRC. But what does that really mean? How does it impact your organisation? And how do I apply it in real life?
GRC is not something you buy; it is something you do: GRC is the actions and activities of governance, risk management, and compliance. Technology enables these processes to work together and function, but it does not define them.
In this recorded webinar, renown GRC pundit, Michael Rasmussen covered the key factors organisations must consider when addressing the GRC requirements of a dynamic and disrupted organisation, and demonstrate live how to apply it in your organisation.
What you will learn
How the current conditions impact operational resiliency.

Importance of having a connected enterprise risk, compliance and resiliency management programs amidst the current global conditions.

Why the end user experience is critical.

Why configurability, scalability, adaptability are more important than frameworks.

Why total cost of ownership is an important indicator of success.

How to implement Agile GRC in your organisation with more people working remotely.
Watch the webinar now.