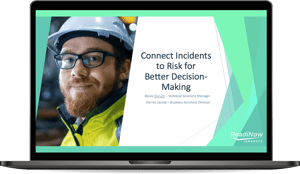 When an incident happens, whether it's a safety loss, an environmental event, a quality event or even a financial event, there's potential for serious harm.
You may have bought software to manage incidents and more software to manage risk registers, however they don't talk to each other, which means you have to manually extract the data to do the analysis. This opens you up to missing critical connections that could not only help you make better investment decisions about risk controls, but also help you assess the effectiveness of the existing controls.
In this on demand webinar, we will show you how you can connect the dots between your incident database and risk register and build a dynamic risk management ecosystem.
What you will learn
How to turn an incident database into a powerful tool for decision making

How to use incident data to inform risk registers

How to assess the actual level of risk in comparison to the organisation's consequence matrix.

How to connect the dots to make better decisions in real time

How to build a dynamic risk management ecosystem
Watch the webinar now.